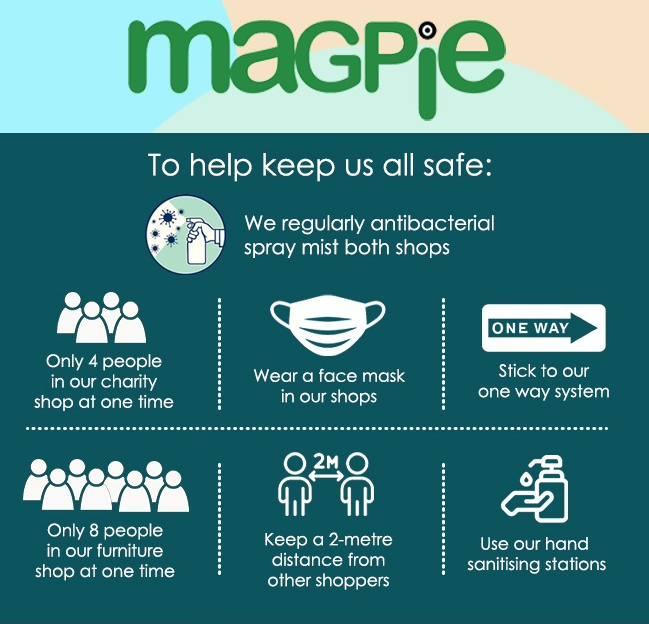 Tillybrake Industrial Estate, Banchory, Aberdeenshire AB31 5UN
Telephone: 01330 823800 Email: [email protected]
Our shops are open Monday - Saturday 9:30am - 4pm.
We have Covid safety measures in-store. You can also shop online, purchase items over the phone or by Paypal. We will do our best to keep our online shop and Facebook page updated with new products. For more information on our Click & Collect service, please call 01330 823800.
*Please note that at the moment we are unable to accept donations without pre-arranged appointments. We kindly ask that no items are left unattended in our car park*
Magpie promotes the re-use of furniture, clothes, bric-a-brac and household goods. We directly reduce the amount of waste going to landfill sites by selling goods to the community at excellent value. We always have wonderful items in the shop, with stock changing daily!
We are a community-led organisation that relies on the generosity of the community, and we in turn are able to support other parts of the community in a very important way. SO before you go to dump or throw away anything that can be reused, please consider donating these items to Magpie!

Magpie is a social enterprise run by Aberdeenshire Voluntary Action (AVA), your local Third Sector Interface working with voluntary groups across Aberdeenshire. We exist to support and represent local voluntary sector organisations by offering a range of services for both new and established groups. Find out more about AVA here.